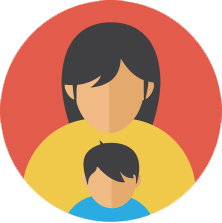 Parents
Childhood is a time of possibility and learning. Not just for children but also for parents. An aware parent is a confident and vigilant parent.
The list of resources in this section will enable you to understand and relate to the changes in behavior and bodies of your children. We hope that the resources will help you communicate with your children on matters of body, body parts, sexuality and protection in a free and fearless manner.
A large section of the resources deal with the issue of child sexual abuse. Every resource in this section has been selected because they conform to Aarambh's philosophy of 'Children First'.
REMEMBER TO LISTEN TO YOUR CHILDREN, THAT HELPS US TO KNOW WHAT THEY GO THROUGH
Still uncomfortable talking to your child about this?
It is not an easy conversation to have. But it is NOT IMPOSSIBLE either. Below is a quick guide with some tips and reading material to help you prepare for this important conversation.