Identifying Child Sexual Abuse: Recognize the Warning Signs of Child Sexual Abuse
There is a list of warning signs that you need to look out for if you suspect a case of child sexual abuse. Usually, the presence of more than one sign at a time can be indicative of sexual abuse.
Behavioural changes:
Loneliness and withdrawn behavior
Acting out in an inappropriate sexual way with toys or objects
Short attention span and failure to concentrate
Drop in school performance and grades
Depression anxiety and sudden mood swings
Suddenly has access to money, toys and other things
Avoidance or Fear of a particular person /place /situation
Cringing from being touched or likes to be touched too much
Emotional outbursts
Abusive aggressive behavior
Disturbed sleep / Change in sleep pattern
Sudden use of sexual words and sexualized behavior
Temper tantrums, hysterical behavior
Running away and absconding
Excessive Masturbation
Sexual Promiscuity
Suicidal behavior
Shoddy appearance and poor general hygiene
Physical signs to look out for:
Irritation in throat, anal area, genitalia
Bed wetting / Thumb sucking / Nail biting (especially in older children)
Self harm and sexual harm to other children
Repeated Urinary Tract Infection
Sexually Transmitted Diseases
Pregnancy
Marks of violence
Unexplained soreness or bruises around genitals or mouth
Pain, discoloration, bleeding or discharges in genitals, anus or mouth
Persistent or recurring pain during urination and bowel movements
Difficulty in walking or sitting
Click the Thumbnail Below to Download & Print The Warning Signs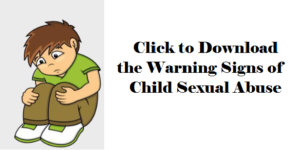 Source:
Parents Protect
Break the Silence module
FACSE
Enfold Trust
Note: This is not an exhaustive list.