Since 2013, Safeguarding Children from Sexual Offences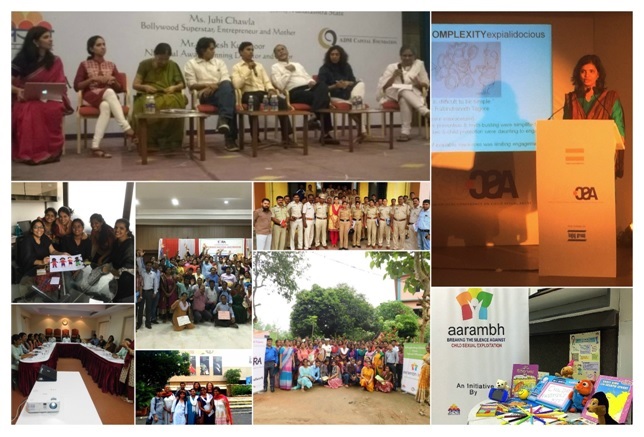 On Children's Day, 14th November 2017, The Aarambh India Initiative will be the proud recipient of the National Award for Child Welfare 2016 in the Institution Category (The Award Letter). As is tradition, the award will be presented by the Hon. President of India at a function held at the Rashtrapati Bhavan, Delhi. (For those who are interested, there will be a live telecast of the ceremony on Doordarshan between 11.30am to 12.15pm).
This is the greatest moment of recognition in the 4 year life of our young initiative and we are, near-simultaneously, honored & humbled & inspired by it. At Aarambh India, we have always believed in looking relentlessly into the future. But this moment catches us in a sudden and extraordinary concussion of nostalgia, as if the recent past has been flooded with light in our collective minds.
The journey in the past four years has been tremendous. We thought this could be a best time for us to reflect and put together a brief timeline of our activities till date. It was an exercise in part nostalgia, part stock-taking, part what-were-we-upto, but mostly full of gratitude to each and every everyone who supported in us and believed in us.
Aarambh India was started as a joint initiative of the Mumbai-based NGO Prerana & the Hong Kong based ADM Capital foundation. It was the foresight, collaboration, transparency and trust between these two organizations that led to the inception of the initiative. They continue to play a fundamental role in the way we have incubated and evolved.
In 2013,
We travelled across the country meeting fellow colleagues and organizations working on the issue of sexual offences in order to seek their advice on what course of work this new initiative should embark upon. We had a vision to build a national resource center on the issue of protecting children from sexual offences, but the discussions and deliberations with individuals and organizations in the field helped us sharpen this vision.
We also adapted the International 'Break the Silence' Child Sexual Abuse Prevention Training Module of the Philippine based Stairway Foundation in an Indian context and began training organizations to help safeguard the children they come in contact with. We also created our module on how to work with the POCSO law.
We realized that it was key to have our feet on-ground as we aimed to build knowledge on the issue, thus began our on-ground case work with our first few cases under the mentorship of Prerana.
In 2014,
We strengthened and developed our case work into a comprehensive care & support program which handheld victims & families throughout the long and trying processes of justice & rehabilitation.
We started our work on 'Ónline Safety' by developing our first training module on the issue as a response to the demand from the grassroots. We also created a module for journalists on how to better and sensitively report on the issue.
And on 19th November, we launched http://aarambhindia.org – India's first resource portal which offered free, simple, easy-to-understand and empowering resources aimed to help individuals and organizations understand, prevent and respond to cases. The resource portal, still the only one of its kind in the country, remains our flagship entity and caters to the child protection needs & queries of over 50,000 users ever month.
In 2015,
We put together and organized 'POCSO On the Ground'- the first of a series of conferences where organizations & individuals working on the ground from across Maharashtra come together to present an on ground picture of the challenges and successes they are facing while working with the POCSO law. These voices would later be used to advocate for much-needed and sustainable change.
This was also the year when we partnered with UNICEF and launched 'Child Friendly Systems in Mumbai', our project that aims to make the journey of child victims and the organizations and systems they encounter more responsive to the best interests of the child. Thus the immense pressure felt by already vulnerable victim & family and the confusions they encounter could be eased.
In 2016,
Aarambh India with its collaborators puts together a round-table of representatives from the ministry, corporate & NGOs for a uniquely multi-stakeholder meeting on 'Online Safety in India'.
Consequently, we launched the first Indian hotline against online child sexual abuse imagery at http://aarambhindia.org/report/ in partnership with the UK-based Internet Watch Foundation. Any citizen who came across sexually explicit videos & photos of children on the public internet now had a platform on which they could report and help take down criminal content.
In 2017,
The hotline became the rallying point around which a National Alliance on Online Safety was put together by the Ministry of Women & Child Development with Aarambh and other NGOs playing a key role within it.
Aarambh India was invited to be the India representative at UNESCO Asia-Pacific's working group to put together a frame for defining & assessing digital citizenship among children.
We launched TARA (The Aarambh India Regional Alliance) with the support of the British Asian Trust to take this issue out of our metros into the small towns and rural areas. We started reaching out to marginalized geographies and train organizations to prevent and protect children from sexual offences. We also began the process of translation of the Aarambh resources into regional languages. Currently, the TARA trainings have been conducted in Tripura & Odisha. The aim is to build regional capacities and resources to better protect our children across the country.
The Near Future
It's almost the end of 2017 and TARA will be kick started in Telanaga. We will also launch Aarambh India's first research on the Unfolding of POCSO in the State of Maharashtra. Its one of the first attempts in the state to gather voices from all the stakeholders across districts on their experiences of working with the POCSO law.
Thank You
From its very inception, Aarambh India had envisaged itself as a collaborative venture and it owes its success in large part to individuals & organizations who believed in the culture of sharing. It is this spirit that was our biggest strength and one that we hope to foster and strengthen.
One may be strong but your greatest strength is the people around you. So we take this opportunity to thank everyone around us. Truly, you have been our greatest strength.
After all, as they say, "It takes a village….."
Aarambh India's Village:
Priti Patkar & Prof. (Dr.) Pravin Patkar – Prerana
Lisa Genasci, Chris Botsford, Denys Firth, Rob Appleby – ADM Capital Foundation
Team DigiSarathi (Prashant, Puneet, Saurabh, Chetan)
Our Volunteers (Antara, Harshita, Neel, Kiara, Pragati, Tanaay, Ishwari, Shabana)
Team Stairway Foundation (Lars, Monica, Ace, Nancy)
Our Advisors (Francesco, Rohit, Mallika, Seema)
Anuja Gupta & Team RAHI
Adv. Maharukh Adenwalla
Adv. Sangeeta Punekar & team FACSE
Aarthi Chandrashekhar & Team CEHAT
Alpa Vora & Team UNICEF
Susie Hargreaves & Team Internet Watch Foundation
Dr. Shaibya Saldanha & Team Enfold
Harleen Walia & Team Childline
Team The Foundation (Suchismita, Janavi, Nikita)
Prem Raaj & Team JVI
Rajendra Meher & Team YCDA
Sujith Ghosh & Team VHAT
Rajib Haldar & Team ECPAT
Kevin Groome & Team British Asia Trust
Stuti Kacker & NCPCR
Rakesh Maheshwari of MIETY
Team P.E.A.C.E
Team MUSKAAN
Team Iprobono
Amrita Tripathi
Farida Lambay
Rupal Shah
Pramada Menon
Dr. Ashwini Chopra
Shalini & Jai Waney
Paddy Walker
All the organizations working on CSA in India
All the family members of our team at Aarambh India