Saathiya Salaah App Review: Discussing Sexuality and Banishing Taboos One Question at a Time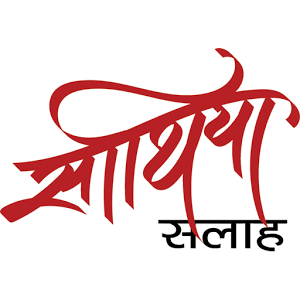 What is Saathiya?
Between existing taboos around discussing sexuality in the country and the pervasive attitude that children tend to best learn about growing up and development on their own time, the fact remains that it is primarily peer groups that discuss and circulate knowledge gleaned around these issues.
'Saathiyas' are young boys and girls between the ages of 10 to 19 across the country who are being organized into cadres of 'peer educators'. They are expected to reach out to their peer groups and talk to them about the questions and issues around adolescence and growing up.
This is being implemented under the Ministry of Health & Family Welfare's Rashtriya Kishor Swasthya Karyakram (The National Adolescent Health Program) and 1.6 lakh youth have been selected and trained as Saathiyas. The Saathiyas have been provided with a resource kit developed by the National Health Mission in collaboration with the United Nations Population Fund (UNPFA).
The resource kit comprises of an activity book, Bhranti-Kranti game, question-answer book and a peer educator diary. According to news outlets, the resource kit breaks the gender stereotypes by saying that it's OK for a boy or a man to cry to vent his feelings, be soft-spoken or shy, just as it's OK for a girl to be outspoken or dress like boys or play sports generally identified as male sports. It further naturalizes homosexuality by saying that it's okay for a boy to have feelings for another boy.
The 'Saathiya Salaah' App is one part of this resource kit. It is primarily intended for the Saathiyas but the content is framed broadly enough to cater to the queries of any adolescent or any person who works with the age group.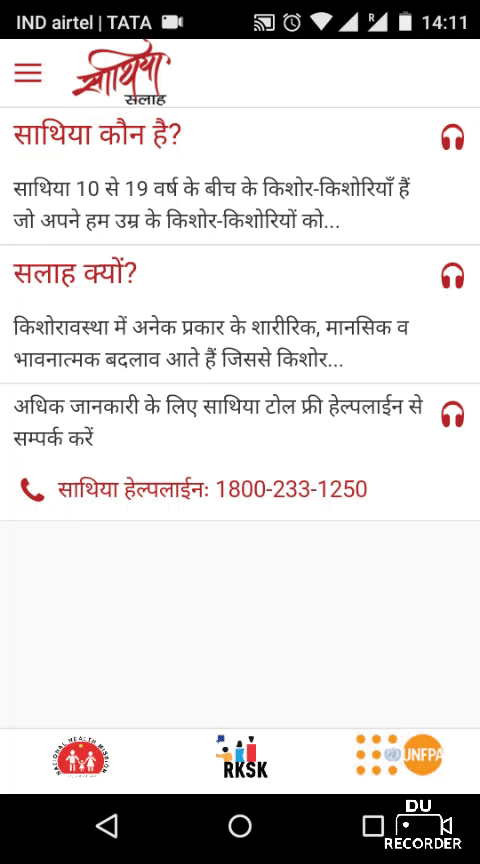 Basic Features:
Currently the app is available only in Hindi. There is an urgent need to translate and launch the app in other Indian languages.
It is simple to navigate with taps and scrolls. The content is arranged in a Question & Answer format. It is both text and sound based. You have the option of reading the content or by clicking on the headphone icons to the left of screen, the content will be read out to you.
The Content:
The Content is what makes the Saathiya Salaah App truly special. It is comprehensive and progressive. Despite the fact that policy documents on sex education for teens in the past have been directed to be free from the word 'sex', the Saathiya App calls it as it is.
The Questions are divided into 11 Separate Sections:
1. Adolescence
Sample question: Why do breasts and thighs have stretch marks on them?
Breasts and thighs develop marks for the following reasons:-
– Rapid development in their size and shape.
– Rapid increase in weight puts stress on the skin and it tends to show wear.
– Hormonal change can also lead to marks on your breasts and thighs.
2. Skin related Queries
Sample question: How effective are fairness creams available in the market?
It is not advisable to rely on fairness creams. They do not work and cause more harm to your skin than good. Instead, focus on eating healthy and exercising in a disciplined manner. This will help bring out the glow in your face and color in your skin.
3. Menstruation
Sample question: Why should you not participate in sports while menstruating?
It is a myth that girls should not participate in sports while menstruating. Instead, keep your daily routine as is. That is the best for you. Menstruation is not a disease. So when you are going through your periods, there is no reason to not follow your daily routine.
4. Sex related Queries
Sample question: Should one have physical relations before one's marriage?
This depends on person to person and their beliefs. Physical relations must be made only with the complete consent of both individuals involved and not by coercion. One also must understand the implications of a physical relationship. Unsafe sexual relations may result in HIV, other sexually transmitted diseases and unwanted pregnancy.
5. Health related Queries
Sample question: Why does it burn while passing urine? How can one solve this problem?
Burning Sensation while passing urine can be the result of:
– Infection
– A bruise
– An obstruction in your urinary tract
– Dehydration in the body
– Presence of stones in kidney or urinary tract
To solve the problem, you need to understand its cause.
– In most cases, the burning sensation is caused by severe dehydration in the body. This can be prevented/cured by drinking sufficient amount of water.
– When you feel like passing urine, do not attempt to control that feeling.
– Focus on the hygiene in particularly 'those' parts.
If the burning sensation continues, please consult with a professional.
6. Nutrition
Sample question: Why should girls not eat food that taste sour?
This is a myth that is unsupported by any scientific evidence. Sour foods are rich in Vitamin C which is most important in the absorption of iron.
7. Pregnancy
Sample question: When is the termination of pregnancy legal?
– Until the 20th week of pregnancy
– When conducted by a trained medical professional
– Or using pills administered by a trained medical professional
– In suitable government or private hospitals
8. Contraceptives
Sample question: What are the contraceptives available for men?
There are primarily two kinds of contraceptives available for men – condom, which is a temporary intervention and vasectomy, which is a permanent intervention.
9. Addiction
Sample question: How to break free from a gutkha addiction?
– Do not keep any alcohol or gutka packets in or near your house.
– Also, do not keep anything that may remind you of alcohol or gutkha.
– Take the help of your friends & loved ones.
– Spend more time with 'good people'
– Indulge in disciplined exercise and eat healthy
– Keep yourself constantly busy
– Keep a daily routine which involves sleeping on time, waking up early, morning walks etc.
10. Rights & Schemes
Sample question: What are some of the rights that adolescents have?
– Right to Life
– Right to comprehensive physical and mental development
– Right to Participate in Family, Society and Social Life
– Right to Protection from Abuse, Neglect & Exploitation
– Right to Sex & Reproduction
– Right to Earn Adequate Livelihood to Support their Life
11. Life Skills
Sample question: "When I see a transex person, I feel scared. What should I do?"
There is no need to feel scared on encountering a transex person. Try talking to the person. Talk to them not just about their personal life, but about their point of view on social issues. This will be beneficial. Try and participate in social work and activities. This will reduce your anxieties.
The Helpline:
Another feature on the 'Saathiya Salah' mobile app is the Saathiya helpline number – 18002331250. On calling it, the pick-up is almost immediate. The voice on the other end is calm.
Now, you may ask your questions related to a wide range of issues from health to sex & sexuality to love & friendship to nutrition. The voice on the other end patiently listens to you as you put your question together. Once you are done, it first proceeds to reassure you. It underscores the normalcy of our question and acknowledges that it took a certain amount of courage for you to reach out. The tone is non-judgemental – a mix of the clinical and the conversational.
Just what a confused teenager going through a physical, mental and emotional rollercoaster would need. The Saathiya on the other end answers the question, engages in a dialogue if need be and points you out to other resources that may be of help. It's simple and straightforward and it works.
Conclusion:
Saathiya Salah is a breath of fresh air, a step in the right direction to rid the stigma and taboos surrounding matters of sexual nature and gender inequality. That it was released by the government comes as some kind of surprise.
It has still a few kinks:- for example, while it embraces diversity in sexuality, answers to rote questions on attraction fail to take that diversity into account and the answers are in a simple binary. (It is normal for boys to be attracted to girl and girls to boys). This is nothing a new draft can't take care of.
In a country where the world's highest number of adolescents resides, the 'Saathiya Salaah' app makes it easy to access the answers to those tormenting questions that line the path from adolescence to adulthood. It has been a long time coming and now its here. There is hope in that.