Muskaan: Leading The Campaign Against Child Sexual Abuse in Pune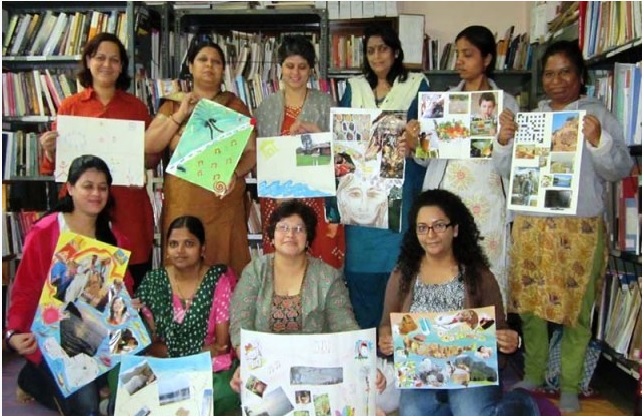 Since 2000, Muskaan has been working in and around Pune with children and adults across a wide spectrum of families, communities, institutions and government agencies to campaign and create awareness about the issue of child sexual abuse.
What started as a collective campaign by concerned individuals and organizations to address a complex issue has now become a full-time program run by the Aalochana Center for Documentation & Research on Women.
Muskaan conducts awareness sessions, training, counseling and intervention for various groups. They run a help-line that provides information, help and support in and around Pune. They design and create resources and also run (as part of Aalochana) a resource centre with one of the comprehensive collection in the country of books, documents, pamphlets etc on child sexual abuse, gender, sexuality, women and other subjects.

Muskaan's approach to prevention and treatment is child-centered and focused on child rights. Working under the aegis of Aalochana brings a feminist perspective that is unique to their work Their work promotes critical thinking and an awareness of gender and patriarchy.
The idea is to give children and adults a complete understanding of sexuality, their bodies and emotions. Through which they become aware of the imbalances of power structures and relations in society, which is one of the reasons for the widespread prevalence of sexual crimes against children.
Says the Muskaan team – "Muskaan was initiated because at the time (circa 2000), nobody seemed to be interested in speaking out about child sexual abuse. It made them uncomfortable. Initially we faced a lot of challenges. Schools were not keen while communities and families preferred not to speak about it."
"It was only gradually that we realized that there was a demand for the work we were doing. As society becomes more courageous, sensitive and open about it, the demand only increases. We realized that we cannot stop what we are doing."
 History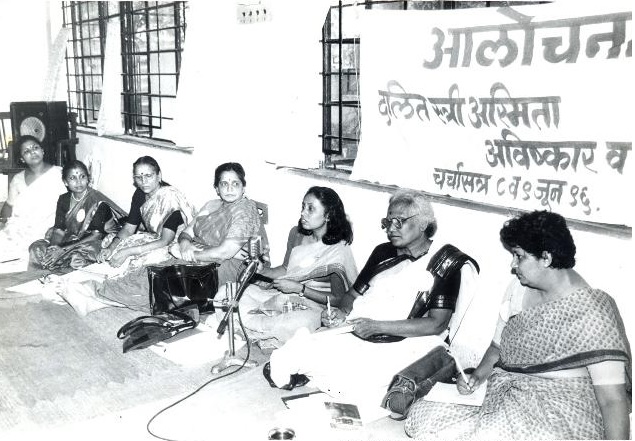 Aalochana Center for Documentation and Research On Women
Aalochana Centre for Documentation & Research on Women is a Pune-based non-profit organization established in 1989. It was established by feminists who realized that while lots of work was being done by women's movements across the nation there was no organization dedicated to documenting the work. There were several research institutions, even in Pune, but there were none which focused exclusively on women. Lack of literature in vernacular languages was one of the biggest roadblocks in reaching out to women in rural areas of Maharashtra.
There was a need to archive all aspects of women's lives. The data needed to be collated, analysed and distributed. There was a need to bring a feminist perspective to the process. This was the initial impulse in setting up Aalochana and to make resources available in both, English and Marathi.
Muskaan
The idea of Muskaan first came into being in October 2000. Aalochana along with Media Cell of SNDT College, Pune organized a screening of the child sexual abuse documentary 'The Children We Sacrifice'. It was attended by a diverse group – child rights and women's rights organizations, social workers, counsellors, doctors, media persons, lawyers, teachers, students and parents. A second screening and discussion at the Aalochana center was where the need for a group to deal with child sexual abuse was reiterated. Muskaan began its journey as a Campaign against Child Sexual Abuse comprising of volunteers.
As with most voluntary initiatives and campaigns, the idea of Muskaan as a campaign was time bound and it came to an end in April 2006. Some of the most committed volunteers felt that they should carry forward the good work.
Thus began the next phase of Muskaan as a program of Aalochana. It has since been going from strength to strength for the last 8 years.
The Challenges
Parents are not aware and sensitive of the various aspects of child sexual abuse. They are reluctant to seek help and approach counsellors. They are unable to identify the symptoms of abuse. Issues like virginity, marriage prospects, reputation of family, social stigma are other reasons for suppression of cases. Action is rarely taken if the oppressor is a family member. The mother is usually in a position of denial or is powerless to take a stand.
Cases of abuse against boys are likely to be under-reported. Boys may feel greater humiliation and experience confusion about gender identity if the abuser is a male. They have less education of body and sexuality and lesser access to people with whom they can discuss sexual topics. Gender socialization makes them reluctant to talk about emotions and attitudes.
Convincing persons in authority to be child centred and pursue cases effectively is a challenge. There is a lack of confidence in the police and judicial process. Absconding abusers is a major problem. Inability to catch the abuser means that there is no safety or justice for the child and no deterrence to potential abusers. Also the abuser remains a potential threat to other children.
Bringing about a change in the patriarchal set up and gender biases which lead to abuse of power and authority against women and children is also seen as one of the major challenges for Muskaan.
Removing silence and stigma about Child Sexual Abuse and sexual matters in general is a challenge that Muskaan is trying to overcome. This would entail attitudinal changes which are difficult and slow to bring about.
The Principles of Change:
The ground reality can begin to change when:
Parents talk to children about body and sexuality in an open and trusting manner.
Boys are brought up to respect girls and women
Women and children are not looked upon as objects to be used
Macho attitudes are not accepted and glamourized in media or peer interactions
Rights of children are acknowledged and safeguarded
Abuse and misuse of power is not tolerated in any context
The Instruments of Change: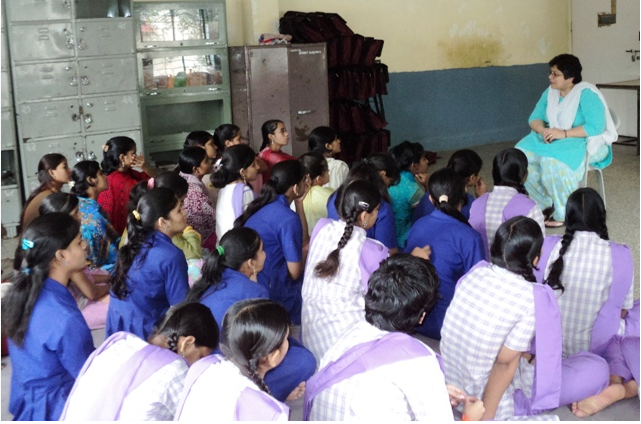 The Muskaan team has many years of experience in working against child abuse. Their practise has evolved from on-the-ground experience, critical thinking, research and self-study. Their work involves direct outreach as well as connecting and partnering with larger NGO networks.
Their praxis takes into account the limitations and challenges faced by organizations working on child sexual abuse and they devise methods and practices to help overcome them. They have created and adapted various modules which they are now in the process of documenting. These modules can be easily taught, modified, adapted to a wide-spectrum of socio-cultural contexts and replicated on the ground. These invaluable toolkits are expected to be available for download soon.
Awareness Sessions
Muskaan conducts awareness sessions in urban and rural areas for children (as young as 4), parents, teachers in schools, colleges, community based organizations, observation home staff, children & women vigilance committees, police personnel and allied agencies.
Training Programs
Muskaan's training programs go beyond awareness to enable participants to detect child abuse, provide basic support to abused children and their families as well as refer cases to appropriate authorities or organizations.
POCSO awareness programs
Muskaan helps spread awareness of the POCSO Act and its provisions to social workers, government agencies, police personnel, probation officers, and woman's vigilance committees. Awareness and sensitization with the police is vital as they are the first point of contact with the legal-judicial system for the child and family. Their attitude and knowledge can make a great difference to how comfortable the child feels and to the outcome of the case.
Many of the community based organizations (CBOs) come across cases of child sexual abuse from time to time. They have good outreach capabilities but do not have the knowhow to deal with the case. Muskaan works closely with a network of community organizations and women's groups to sensitize and train them on various aspects of Child Sexual Abuse.
Interventions and Counselling
Muskaan provides support and counselling to victimized children and children in conflict with law who are accused in sexual abuse cases, as well as their families.
Helpline
The Muskaan helpline in Pune (+91 9689062202) provides information, help and support. They have a network of dedicated resource persons, medical professionals, lawyers etc whom them help connect with victims, families and other persons in need.
Resources
Muskaan has created posters in Marathi and English to be used in awareness sessions. They have also contributed articles in the print media, mainly prominent English and Marathi daily newspapers.
The Resource Centre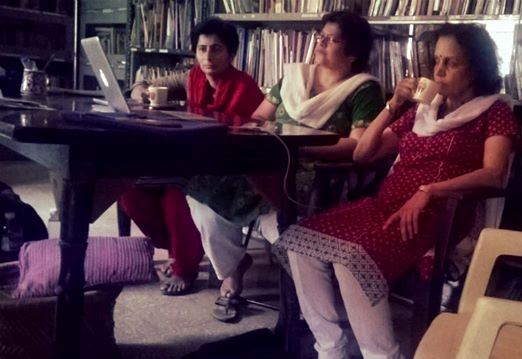 The Aalochana resource centre is a trove of literature and audio video resources on child sexual abuse among other subjects. Some of the books are rare and out of print. There is a TV and a DVD player where their enviable collection of videos can be watched. It also operates as a lending library where resources can be borrowed at a nominal price. The atmosphere is calm, peaceful and invites contemplation.
Impacts
Muskaan's awareness programs have addressed over 10,000 children and over 13,000 adults.
They regularly organize workshops with experts and other public events that reaches out not only to the stakeholders but the general public and the youth demographic.
Muskaan has successfully used face to face interactions and experiential exercises like role play and discussions in their modules.A professional counsellor who is an adult survivor told them about the life changing impact that one of their resource persons made on him.
"I felt she (the Muskaan resource person) was describing exactly my life when she talked about the long term impact of sexual abuse on children. It was very liberating for me to hear that there are many persons like me who exhibit the same psychological symptoms; that I don't have to feel any guilt or self blame; that I couldn't have stopped the abuse; that it was totally my bad luck that I was around and available to the abuser; that the abuser could have exploited any other child in my place and that the abuser is totally to blame for the abuse." 
Now this counsellor himself is empowered enough to help other adult survivors.
Their CSA awareness module has become a part of Nursery Teacher's Training Course in Bharatiya Vidya Bhavan, Pune. Around 400 students, over the past seven years, have received training in detection of symptoms and handling of affected children.  The module is also part of a short course of child abuse conducted by Maharshi Karve Stree Shikshan Sanstha, (MKSSS), Hinge.
Their work has enabled parents and teachers to talk to their children about body and sexual matters so that children may feel free to talk about abuse.
Muskaan has helped victimized children to be admitted to shelter homes if necessary.
In cases where parents did not want to register a case, Muskaan has been supported by the Special cell for Women and Children to bring pressure on abuser to stop the abuse.
Muskaan has contributed to building public sensitization and awareness through news media and public events.
They have taken part in the process to advocate for a new child sensitive law on Child Sexal Abuse.
How Muskaan can Help You?
If you are in the Pune Area, you can call the helpline (+91 9689062202) for any information on Child Sexual Abuse
You can use their resources (posters, modules etc) to help spread awareness in your community, institution etc
Organize a session by Muskaan in your organization, institution and community to help it become safe and secure for your children
Use the Resource Centre for your own research and study
Get Involved with Muskaan
Become a volunteer
Organize awareness programs in your neighbourhood or institution
Sponsor an activity
Make a donation
Email Muskaan at muskaanpune (at) gmail.com