How Indian Stamps Have Portrayed Women Through the Ages
Over the years, the Indian Postal Service has printed a little over 100 stamps that feature women and women-related issues/institutions. It may seem a lot. But as we browsed through the stamp issue calendar over the years, it was a case of few and far between.
The personalities that feature on stamps range from popular to obscure, from glamorous to ascetic, from radicals to professionals. Freedom fighters and social reformers take the spot light. But in recent years, it has shifted to artists and mostly those from the film industry.
It is a list that still packs the capacity to surprise. Did you know about the woman whose sari inspired the Indian flag? Did you know about the soldier who dressed up as the queen so the real queen could escape during a siege? Did you hear of the woman who wouldn't let go of the Indian flag even when she was shot three times?
Much of it remains inspiring and relevant. It is a worthy journey. All this and much, much more in tiny little colorful rectangular pieces of history.

A 16th century rebel queen, Meera is a celebrated mystic poet & saint. She composed many prayers – and in each song she wrote expressed her inspiration, aspiration and self-giving. Her singing & dancing would create a furor among her family and they were many attempts to assassinate her, but Meera remained resolute and unshakable in her beliefs and actions. (click here for more)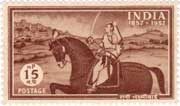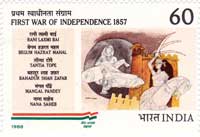 An Indian queen and warrior, Lakshmibai , the Rani of Jhansi was one of the leading warriors of India's first struggle for independence. The image of her riding a horse, sword in one hand and with her infant son strapped to her back became, for Indian freedom fighters, a symbol of resistance to the rule of the British East India Company in India. (click here for more)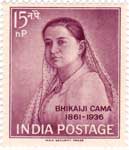 Madam Bhikaiji Cama is known as the Mother of Indian Revolution. She was the first person to unfurl the Indian National Flag (with Vande Mataram written) on it on the foreign soil. She selflessly cared for patients during the outbreak of plague in Mumbai & was a vehement and vocal advocate of gender equality. (click here for more)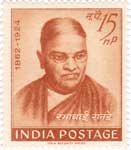 Ramabai Ranade was an Indian social worker and one of the first women's rights activists in the 19th century. She was the founder of Seva Sadan, whose aim was to empower housewives and create model citizens. They would work with the marginalized communities like the poor and the mentally disabled and prepare them to lead a full life. (click here for more)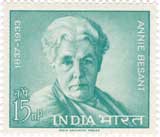 A supporter of Irish and Indian self rule, Dr. Annie Besant was a British socialist, theosophist, women's rights activist, writer and orator. She came to India in 1893 and worked for Education, Socialism, Trade Unionism, Rights off Working Women. Dr. Besant was the first woman president of Indian National Congress. (click here for more)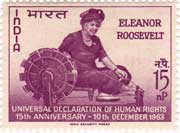 Eleanor Roosevelt, the longest serving first lady of the United States, was a leader in her own right and involved in numerous humanitarian causes throughout her life. She worked tirelessly for political, racial and social justice. After President Roosevelt's death, Eleanor was a delegate to the United Nations and continued to serve as an advocate for a wide range of human rights issues. (click here for more)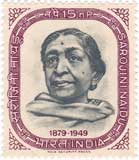 Known as the 'Nightingale of India', Sarojini Naidu was a poet, politician and a great orator. She was the first Indian woman to become the President of the Indian National Congress and the first woman to become the Governor of a state in India, when she became the Governor of the state of West Bengal after India's Independence. (click here for more)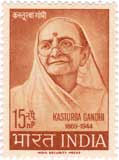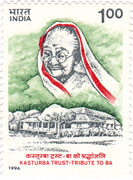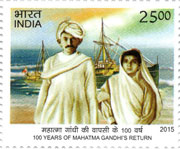 Kasturba Gandhi was a political activist who fought for civil rights and Indian Independence. Affectionately known as Ba, she was married to Mahatma Gandhi and played a key role in the various movements and struggles that lead to independence. (click here for more)


The stamp portraying tea-plucking rural female workforce was issued on August 15, 1965 to honor the female workforce in agriculture in India.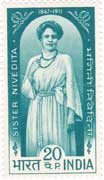 Born as Margaret Elizabeth Noble, she was more popularly known as Sister Nivedita. An Anglo-Irish social worker, author and teacher, she was also a disciple of Swami Vivekananda. She opened a school for girls, nursed and cared for the most wretched of patients during the Calcutta plague, promoted Indian culture & history and took an active interest in India's nationalist struggle.(click here for more)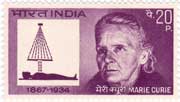 Marie Curie was a Polish and naturalized-French physicist and chemist who conducted pioneering research on radioactivity. She was the first woman to win a Nobel Prize, the first person and only woman to win twice and the only person to win a Nobel Prize in two different sciences.(click here for more)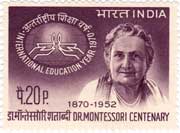 Dr. Maria Montessori was an Italian physician, educator, and innovator, acclaimed for her educational method that builds on the way children naturally learn. Her educational method is in use today in some public and private schools throughout the world.(click here for more)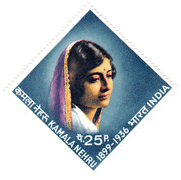 Kamala Nehru was a freedom fighter & a women's rights activist. In the Non Cooperation movement of 1921, she organized groups of women in Allahabad and picketed shops selling foreign cloth and liquor. When her husband (Jawaharlal Nehru) was arrested to prevent him delivering a "seditious" public speech, she went in his place to read it out.(click here for more)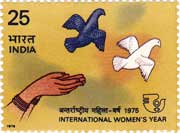 A stamp commemorating 1975 as the International Year of the Women with an emphasis on equality, development and peace.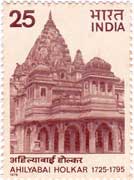 The great ruler and the Queen of the Kingdom of Malwa, Ahilyabai Holkar was one of India's great women rulers. Ahilyadevi earned a reputation for administering justice fairly during her rule without partiality or partisanship. So fair and equitable was her rule that she even sentenced her only son, found guilty of a capital offense, to death. (click here for more.)

Subhadra Kumari Chauhan was a freedom fighter & Hindi poet. She joined the Non-Cooperation Movement in 1921 and was the 1st Woman Satyagrahi to be arrested. She is known for her poems which evoked emotions of courage and sacrifice. Her most famous composition is Jhansi Ki Rani, an emotionally charged poem describing the life of Queen Laxmi Bai.(click here for more)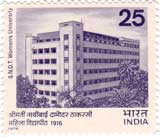 Shreemati Nathibai Damodar Thackersey Women's University was started in 1916 by Dr. Dhondo Keshav Karve as way to promote higher education among women. It began with the enrollment of five students and it gradually took shape as a women's university.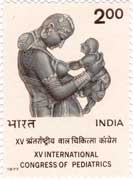 The stamp showing a mother holding a child was issued on October 23, 1977 to mark the 15th International Congress of Pediatrics.

Mirra Alfassa was instrumental in helping create 'Auroville' a model spiritual community in Pondicherry India. She was the spiritual collaboration of Shri. Aurobindo and also help lay the foundations of his Ashram. (click here for more)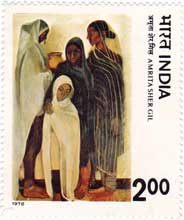 Amrita Sher Gill is often described as the first female artist of modern India. The stamp is a painting by Amrita Sher Gill and was part of a series of four special postage stamps on Modern Indian Paintings.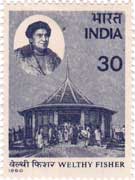 Born in United States, Welthy Honsinger Fisher was the founder of World Education and World Literacy, Canada. She visited India in 1947 and after meeting Gandhiji who advised her to go to villages and help the villagers she started an adult literacy class for the villagers in a verandah of the Agricultural Institute at Allahabad in Uttar Pradesh in 1953. For twenty years she devoted every minute of her waking hours to the welfare of the Indian villagers.(click her for more)

Helen Keller is an American author, political activist and lecturer. she campaigned for women's suffrage, labor rights, socialism, antimilitarism, and other similar causes. She was the first deaf-blind person to earn a Bachelor of Arts degree. She proved that disability can not hamper a person from living a capable and regular life.(click here for more)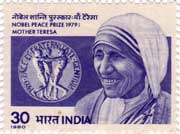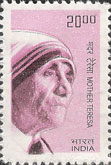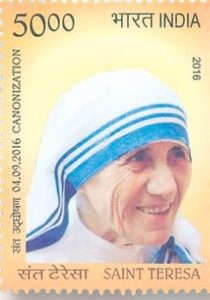 Born as Anjezë Gonxhe Bojaxhiu, Mother Teresa also known as Saint Teresa of Calcutta moved to India where she founded Missionaries of Charity in 1950 where the congregation managed homes for people dying of HIV/AIDS, leprosy and tuberculosis; soup kitchens; dispensaries and mobile clinics; children's- and family-counselling programmes; orphanages, and schools.(click here for more)

The stamp portraying female workforce working in rubber industry was issued on November 23, 1980 to celebrate the female workforce in Rubber Tapping Industry in India.


The stamp portraying female workforce working in dairy industry was issued on January 25, 1982 to celebrate the female workforce in Dairy and Milk Industry in India.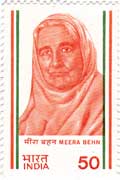 Born as Madeleine Slade in an aristocratic British family in 1892, Mira Behn left her home in Britain to live and work with Mohandas Gandhi and devoted her life to human development, the advancement of Gandhi's principles. She was awarded India's second highest civilian honour, the Padma Vibhushan in 1981.(click here for more)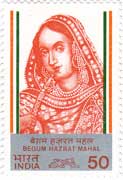 Begum Hazrat Mahal was a Indian freedom fighter who rebelled against the British East India Company during the Indian Rebellion of 1857, India's first war of Independence. After her husband had been exiled to Calcutta, she took charge of the affairs in the state of Awadh and seized control of Lucknow. She was a strong leader and an adroit strategist, and renowned for her beauty and grace. (click here for more)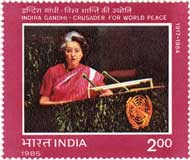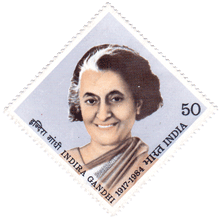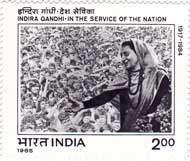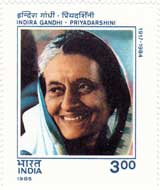 India's first and till date only female Prime Minister, Indira Gandhi emerged as a popular leader thanks in part to efforts to revitalize the farming industry. Her terms were controversial but she was known for her ability to navigate complex relationships of diplomacy with some of the great leaders of the world.(click here for more)

Born as Edith Ellen Gray, she was an Englishwoman who married Jatindra Mohan Sen Gupta in 1909 and came to Chittagong to join Freedom Struggle and fought for Indian Independence. She was elected president of the Indian National Congress at its 47th annual session at Calcutta in 1933. Nellie was awarded Padma Bhushan in 1973.(click here for more)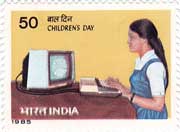 The stamp showing a girl working on a computer was issued to commemorate Children's Day in 1985.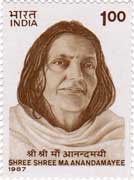 Maa Anandamayee was regarded as a Self/God-realized master. Precognition, faith healing and other miracles were attributed to her by her followers. She influenced the spirituality of thousands of people who came to see her throughout her long life.(click here for more)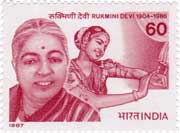 An Indian theosophist, dancer and choreographer of Bharatanatyam, Rukmini Devi was an activist for animal rights and welfare. She was the founder of Chennai's iconic Kalakshetra, nominated member of the Rajya Sabha, catalyst of the Prevention of Cruelty to Animals Act, and first Chair of the Animal Welfare Board. Rukmini Devi was awarded the Padma Bhushan in 1956.(click here for more)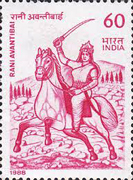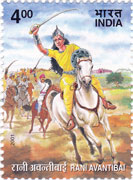 Avanti Bai was a Lodhi-warrior-queen in the area now known as Madhya Pradesh. After the death of her husband and with no heir to succeed, the British refused to allow her to succeed the throne and placed Ramgarh under their administration. Avantibai vowed to fight the British to regain her land and her throne. She raised an army of four thousand and personally led it against the British in 1857. On 20 March 1858, facing imminent defeat, she killed herself with her own sword.(click here for more)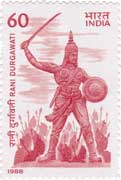 Rani Durgavati of the famous Rajput Chandel dynasty, was a ruling Queen of Gondwana from 1550 until 1564. She was a patron of sculpture. It was during her dynasty that the temples of Khajuraho and Kalinjar Fort which were built. She lead her army into battle against the invading Mughals. She fought bravely but ultimately lost and took her own life. Her wartime efforts have made her a symbol of self sacrifice and martyrdom.(click here for more)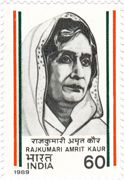 An eminent Gandhian, a freedom fighter, and a social activist, Rajkumari Amrita Kaur was the first woman to hold a cabinet minister position. She was the health minister for ten years after India's independence. She served as the Chairperson of the Indian Red Cross society for fourteen years. During her leadership, the Indian Red Cross did a number of pioneering works in rural India.(click here for more)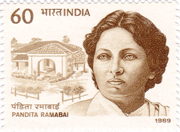 Considered to be one of the earliest feminists in India, Pandita Ramabai was an Indian social reformer, a champion for the emancipation of women, and a pioneer in education. She was a social worker, scholar and a champion of women's' rights, freedom and education and participated in the freedom movement and was one of the 10 women delegates of the Congress session of 1889. She spent her life rescuing women and widows from poverty, ostracization and death and empowering them through education.(click here for more)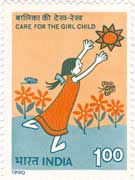 The stamp showing a girl child playing was issued on September 5, 1990 to mark the SAARC Year of the Girl Child.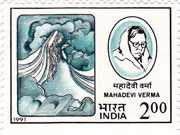 A Hindi poet, freedom fighter, woman's activist and educationist, Mahadevi Verma is widely regarded as the "modern Meera". She was awarded India's highest literary award, for lifetime achievement, the Sahitya Akademi Fellowship in 1979, followed by the Jnanpith Award in 1982. She was the recipient of the Padma Bhushan in 1956 and the Padma Vibhushan in 1988.(click here for more)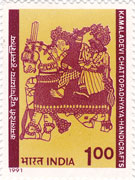 A social reformer and freedom fighter, Kamladevi Chattopadhyay is known for her role in the Indian independence movement; for being the driving force behind the renaissance of Indian handicrafts, handlooms, and theatre in independent India; and for upliftment of the socio-economic standard of Indian women by pioneering the co-operative movement.(click here for more)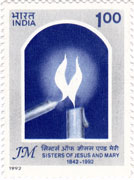 The stamp was issued on November 11, 1992 to mark the 150th Anniversary of Sisters of Jesus & Mary in India.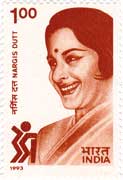 Nargis is regarded as one of the greatest actresses in the history of Hindi cinema. Her film 'Mother India' won international acclaim. She formed the Ajanta Arts Cultural Troupe, which roped in several leading actors and singers of the time and held stage shows at border areas. In early 1970s, she became the first patron of Spastics Society of India,and her subsequent work with the organisation brought her recognition as a social worker. She received a Rajya Sabha nomination in 1980. (click here for more)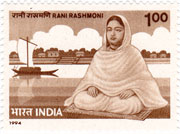 Rani Rashmoni has been credited with numerous charitable works and contributions to her name including the construction of a road from Subarnarekha river to Puri for pilgrims, Babughat, Ahirtola Ghat and Nimtola Ghat for the daily bathers in the Ganges. She also offered considerable charity to the Imperial Library (now the National Library of India), the Hindu College (now Presidency College).(click here for more)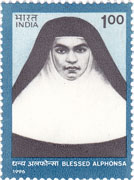 Saint Alphonsa was the first woman of Indian origin to be canonized as a saint by the Catholic Church. In the homily, Pope Benedict XVI recalled Saint Alphonsa's life as one of "extreme physical and spiritual suffering." Her tomb at St. Mary's Syro-Malabar Catholic Church, Bharananganam has become a pilgrimage site. (click here for more)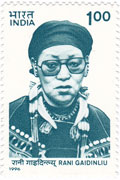 Rani Gaidinliu was a Naga spiritual and political leader who led a revolt against British rule in India. At the age of 16, she was sentenced to life imprisonment by the British rulers as she headed the movement against the British in the Manipur and Naga belts. She was released in 1947 after India's independence after which she continued to work for the upliftment of her people.(click here for more)
12th Oct 1996 – Girl Child Education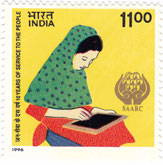 The stamp showing a girl child reading was issued on December 8, 1996 to mark the 10th Anniversary of SAARC.
8th Dec 1996 – Thirumathi Rukmini Lakshmipathi, Politician & Activist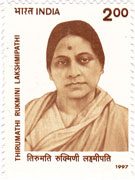 An Indian independence activist and politician belonging to the Indian National Congress, Rukmini Lakshmipathi was the first woman to be elected to the Madras Legislature and the first to serve as a minister in the Madras Presidency. She was an active social reformer, an advocate of the extension of Elementary Education Act, adult education and compulsory female education.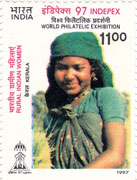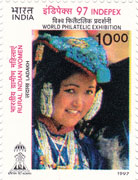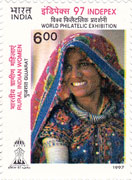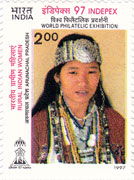 A series of four stamps commemorating women in rural India.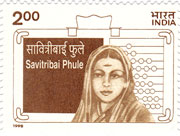 Savitribai Phule is described as one of the first-generation modern Indian feminists. A social reformer and poet, she played an important role in improving women's rights in India during British rule. Savitribai Jyotirao Phule is also known as the first Indian female teacher and worked very hard to abolish discrimination and unfair treatment of people based on caste and gender. She is regarded as an important figure of the social reform movement in Maharashtra.(click here for more)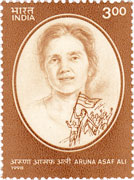 Aruna Asaf Ali was an Indian independence activist and is widely remembered for hoisting the Indian National Congress flag at the Gowalia Tank maidan in Bombay during the Quit India Movement, 1942. She received India's highest civilian award, the Bharat Ratna, posthumously in 1997.(click here for more)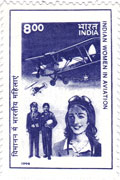 Aviation in its infancy, was male oriented and only a few daring women ventured to wing their way across the skies Mrs. Urmila K. Parekh was the first Indian woman to obtain Pilot's License, in 1930. The photograph depicted was published in the magzine "Indian Aviation" in July 1931 issue.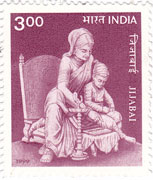 Jijabai was a intelligent woman with great vision for an independent Maratha kingdom. She inspired her son Shivaji and gave him the moral and strategic guidance to become a leader.(click here for more.)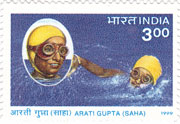 Arati Gupta Saha was Pioneer in Aquatic sports. She started swimming at the age of 4years. In 1959 she became the first Asian woman to swim the English channel.(click here for more)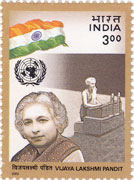 Vijaya Lakshmi Pandit was an Indian diplomat, politician and author. Pandit was sent to London, as India's most important diplomat, after serving as envoy to the Soviet Union, the USA and the United Nations. In 1979, She was appointed the Indian representative to the UN Human Rights Commission. (click here for more)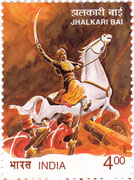 Jhalkari Bai was a soldier in Queen Lakshmibai's Army. She rose to a position of advising the queen and participating in vital decisions. During the rebellion, at the height of the battle of fort of Jhansi, she disguised herself as the queen and fought on the front to let the queen escape safely out of the fort.(click here for more)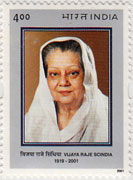 The Rajmata of Gwalior, Vijaya Raje Scindia was a prominent Indian political personality. She was elected repeatedly to both houses of the Indian parliament.(click here for more)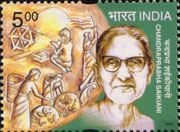 An Indian social reformer, writer and freedom fighter from Assam, Chandraprabha Saikiani was the founder of The All Assam Pradeshik Mahila Samiti, a non governmental organization that works for the welfare of the women of Assam. She fought against the practice of child marriage, polygamy and the discrimination of women at the temples and took up issues related to women's education and self-employment. (click here for more)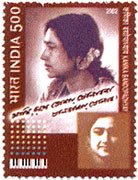 Kanika Banopadhyay was a renowned singer of Rabindra sangeet. She joined Sangeet Bhavana as a teacher and in due course became Head of the Department of Rabindrasangeet and later its Principal. She was a regular on Indian radio and helped popularize the art form. She was made Professor Emeritus of Visva-Bharati.(click here for more)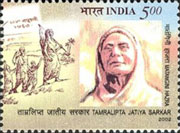 Tamralipta Jatiya Sarkar was a parallel government established in Bengal during the quit india movement. The stamp depicts Matangini, a freedom fighter, who led a procession in the Quit India Movement. Even after firing commenced on the peaceful procession, she continued to advance with the tri-colour flag, leaving all the volunteers behind. The police shot her three times. She continued marching despite wounds to the forehead and both hands.(click here for more)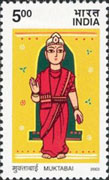 Muktabai or Muktai was a saint in the Varkari tradition. She composed 41 devotional poems in her lifetime She was the younger sister of Jñāneśvar, the first Varkari saint.(click here for more)

Allah Jilai Bai was a folk singer from Rajasthan. Born in Bikaner to a family of singers, by the age of 10 she was singing in the Durbar of Maharaja Ganga Singh. She was well-versed in a variety of styles and schols.In 1982, the Indian Government awarded her the Padma Shri in Arts field. (click here for more)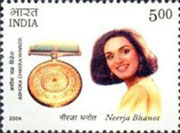 Neerja Bhanot was a purser for the airline Pan American World Airways, based in Mumbai, India. She was shot and killed while saving hundreds of passengers on board Pan Am Flight 73, which was hijacked by terrorists on 5 September 1986. Posthumously, she became the youngest recipient of India's highest peacetime award for bravery, the Ashok Chakra Award.(click here for more)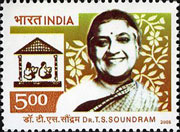 Dr. T.S. Soundaram was a commited social worker, doctor and a parlimentarian who founded the Gandhigram society. A pioneer of women's awakening in pre- independence India, she campaigned for liberating Indian women from shackles of illiteracy,inequality and moribund social customs. (click here for more)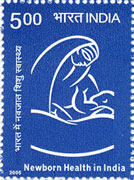 A stamp commemorating India's efforts to safeguard and promote health of new born children in the country.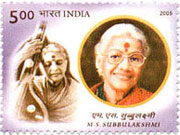 M.S Subbulakshmi is a name that is synonymous with the world of Carnatic music. A big part of the country still wakes up to her songs. This flawless singer whose voice was the first singer in India to be presented with the Bharat Ratna, the highest award given to any civilian.She was appointed as the Cultural Ambassador of India.(click here for more)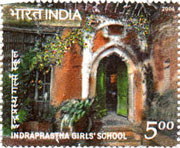 The oldest women's college in Delhi started by Dr. Annie Besant in 1904.


A set of stamps commemorating International Women's Day.

Madhubala was an Indian film actress who appeared in several classic films of Hindi cinema. She was active between 1942 and 1960 and is often regarded as one of the most influential personalities of Hindi cinema. She is to be one of the most beautiful actresses to have worked in the industry. (click here for more)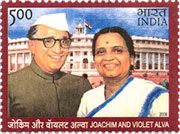 Violet Alva was an Indian lawyer and politician. She was the first woman lawyer to appear before a High Court in India and the first woman to preside over the Rajya Sabha.(click here for more)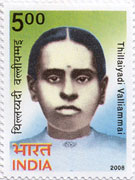 Thillaiyadi Valliammai was a South African Tamil woman who worked with Mahatma Gandhi in her early years when she developed her nonviolent methods in South Africa fighting its apartheid regime. Some assert that Gandhi's input in the creation of the modern flag of India, was designed with the color scheme of Valliamma's sari, which she held up, not having a flag of her own during one of her non-violent protests.(click here for more)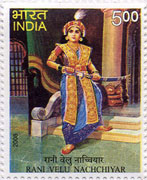 Rani Velu Nachiyar was the first queen to fight against the British colonial power in India. She developed a wing of women soldiers who were some of the bravest warriors in her army. She was a linguist and a scholar. (click here for more)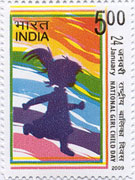 A stamp commemorating National Girl Child day.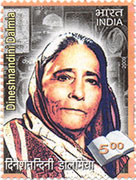 Dineshnandini Dalmia, was an Indian poet, short story writer and novelist of Hindi literature. She positioned herself in opposition to gender discriminiation and purdah system, and published poems, prose poems, short stories and novels on the theme of women's emancipation. The Government of India awarded her the third highest civilian honour of the Padma Bhushan, in 2006, for her contributions to literature.(click here for more)


Jeanne Jugan, also known as Sister Mary of the Cross, was a French woman who became known for the dedication of her life to the neediest of the elderly poor. Her service resulted in the establishment of the Little Sisters of the Poor, who care for the elderly who have no other resources throughout the world. She has been declared a saint by the Catholic Church.(click here for more)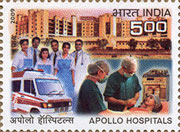 A stamp commemorating the contribution of lady doctors and nurses of Apollo Hospitals to healthcare in the country.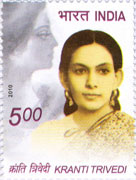 Propagation of Hindi and issues relating to women were the two cornerstones of Kranti Trivedi's writings. She wrote her stories in simple language in an effort to encourage people to read more Hindi Literature.(click here for more)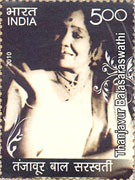 Balasaraswati created a revolution in traditional music and dance for bharata natyam, a combination of the performance arts of music and dance. She was the first performer of her traditional style outside of South India, performing first in Calcutta in 1934. She went on to a global career that attracted international critical attention. She was the only non-western dancer included in a compilation of the Dance Heritage Coalition, "America's Irreplaceable Dance Treasures: The First 100". (click here for more)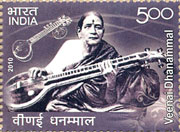 A highly accomplished Carnatic musician, and the torchbearer of the school of Carnatic music . She was both a vocalist and a performer on the Saraswati veena. The prefix "Veenai" in her name is an indicator of her exceptional mastery of that instrument. Her personal style, known as the Veenai Dhanammal bani, is still regarded as a yardstick in terms of adherence to traditional values and profundity of music expression.(click here for more)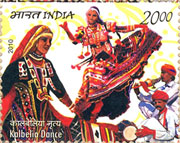 Kalbelia or Kabeliya is one of the most sensuous dance forms of Rajasthan, performed by a tribe of the same name. They are famous for their dance which is an integral part of their culture. Both men and women in the tribe participate in this activity to celebrate joyful occasions.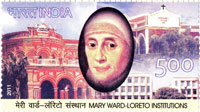 May Ward pioneered the first religious order of women for freedom and mobility(Sisters of Loretto). She fostered a community of religious women who were independent and self governing. The congregation was patterned on the model of the Society of Jesus, free of the confines of cloisters and responding to the urgent needs of her time.click here for more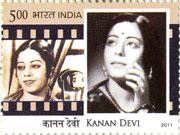 Kanan Devi was one of the early singer-actors of Bengali and Hindi films.She was among the early singing stars of Indian cinema, and is credited popularly as the first star of Bengali cinema.Her singing style, usually in rapid tempo, was used instrumentally in some of the biggest hits of New Theatres, Kolkata.(click here)

Meena Kumari was an Indian film actress, singer and poet under the pseudonym "Naaz".She is regarded as one of the greatest actresses to have appeared on the screens of Hindi cinema. In her time, she was also thought to be the only actress who could sell a film on the strength of her name alone.(click here for more)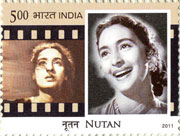 Regarded as one of the finest female actors in the history of Hindi cinema, Nutan was noted for playing unconventional parts, and her performances often received praise and accolades. In 1974, she was awarded the Padma Shri by the Government of India.(click here for more)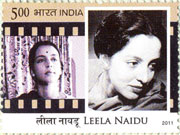 Leela Naidu was an Indian actress who starred in Hindi and English films. She was Femina Miss India in 1954, and was featured in the Vogue in the list of 'World's Ten Most Beautiful Women'. She is remembered for her stunning classical beauty and subtle, unconventional acting style.(click here for more)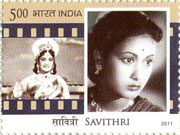 Savitri was an Indian film actress, playback singer, dancer, director and producer. In 1960, she received the Rashtrapati Award for her performance in the Telugu film Chivaraku Migiledi. In 1968, she has produced, and directed the Telugu film, Chinnari Papalu for which she received the state Nandi Award for Best Feature Film (Silver).(click here for more)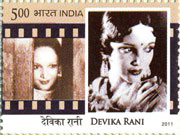 Widely acknowledged as the first lady of Indian cinema, Devika Rani had a successful acting career that spanned 10 years. Thereafter, she ran the studio 'Bombay Talkies' for a while and was instrumental in producing several women-centric films.(click here for more)

Subhadra Joshi (née Datta) (23 March 1919 – 30 October 2003) was a noted Indian freedom activist, politician and parliamentarian from Indian National Congress. She took part in the 1942 Quit India movement, and later became the president of the Delhi Pradesh Congress Committee.(click here for more)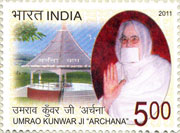 Umrao Kunwarji Archana Propagated Jainism and created spiritual awakening among the masses. She has authored many books and helped establish hospitals and welfare institutes.(click here for more)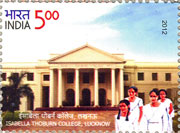 The Isabella Thoburn College, formerly the Lucknow Women's College is a college for women in Lucknow, India, named after its founder, Isabella Thoburn, an American missionary. The college began as school on 18 April 1870 in one room in the city-centre bazaar of Aminabad. There were then just six girls.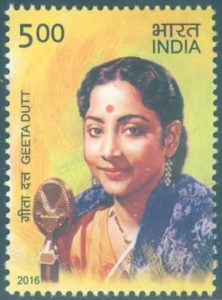 Geeta Dutt was a prominent Indian singer. She found particular prominence as a playback singer in Hindi cinema. She also sang many modern Bengali songs, both in film and non-film genre.(click here for more)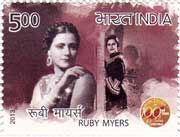 Ruby Myers better known by her stage name Sulochana, was an Indian silent film star of Jewish ancestry. In her heyday she was one of the highest paid actresses of her time. In mid-1930 she opened Rubi Pics, a film production house. She was awarded the 1973 Dada Saheb Phalke Award, India's highest award in cinema for lifetime achievement.(click here for more)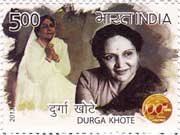 Durga Khote was a pioneering actor in Indian Cinema." She helped dispel notions of taboo when she chose to work in the film industry. She was awarded the highest award in Indian cinema, the Dadasaheb Phalke Award, for lifetime contribution to Indian cinema, in 1983.(click here for more)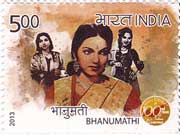 Bhanumati was a renaissance women. At various times she was a writer, actor, director, producer, singer, music director, editor and studio owner. She also was a scholar in Astrology and philosophy.(click here for more)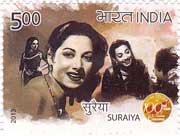 Suraiya was a sensational singer-actor who had a unique acting style and a distinct voice.She was a child actress and a radio star before becoming a film star.(click here for more)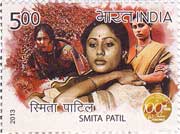 Smita Patil was an actress and an activist all at once. She was deeply committed to the advancement of women's issues, and gave her endorsement to films which sought to explore the role of women in traditional Indian society, their sexuality, and the changes facing the middle-class woman in an urban milieu.(click here for more)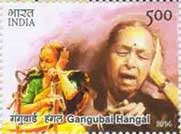 Gangubai Hangal was one of the most renowned Hindustani classical singer of the Kirana school of music known for her powerful voice. Singing was not considered a worthy profession in Gangubai's social circle which is why she had to battle a great deal of prejudice on her climb to the high-table of Indian classical music.(click here for more)

D. Krishnaswamy Pattammal was a prominent Carnatic musician and a playback singer for film songs in many Indian languages. When the country became independent on midnight of August 15, 1947, it was her voice on the All India Radio (AIR) that called upon people to sing.(click here for more)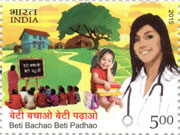 A stamp commemorating the government's campaign to empower and educate the girl child.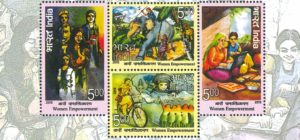 A series of stamps depicting scenes of women empowerment.

A series of 2 stamps commemorating UN's international 'He for She' campaign on the occassion of International Women's Day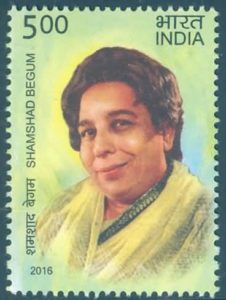 Shamshad Begum was an Indian singer who was one of the first playback singers in the Hindi film industry. She had a distinctive voice and was a versatile artist, singing over 6,000 songs in Hindi and the Bengali, Marathi, Gujarati, Tamil and Punjabi languages and of them 1287 songs were Hindi film songs. click here for more.