Beyond Breaking The Silence – Next Steps in Our Fight Against Child Sexual Abuse
A Panel Discussion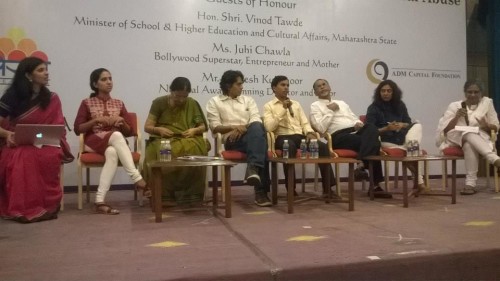 The Need:
The 'silence' is breaking. Every hour, every day, we hear voices against child sexual abuse. Expressed in different mediums, but driven by the common desire to engage with the issue and seek justice, these are the voices that keep the silence at bay.  Their presence is the first step towards change.
At Aarambh we felt that the need to take the discussion ahead through a discussion, titled 'Beyond Breaking the Silence' – Next Steps in our fight against Child Sexual Abuse that was held on the 18th of November 2014 in Mumbai. The panel discussion was held after the launch of India's first online portal on child sexual abuse www.aarambhindia.org.
The BIG question:
We asked all our panelists one simple question "What should be the next steps in taking the issue of Child Sexual Abuse to its tipping point?"
Engaged citizens and activists who have been associated in the fight against child sexual abuse and exploitation were on the panel. We tried to understand what should specific stakeholders do to ensure child protection.
The Response:
"There is a huge need to work closely with the criminal justice system to ensure that the systems are sensitive to victims and families. We need good lawyers; we need to work on rehabilitation of victims." – Meenakshi Ganguly, Human rights activist and the South Asia Director of Human Rights Watch
"The entertainment industry sensationalizes the issue of child sexual abuse. There is a need for them to work closely with the NGO sector to understand the nuances of the issue while making a film on this issue. Big stars in Bollywood must come forward to take up this cause, that will help generate a lot of awareness among general public." – Nagesh Kukunoor, National Award winning filmmaker of films like Iqbal, Dor & Lakshmi. 
"Handling cases of violence against children, especially child sexual abuse must become a part of the curriculum in medical colleges. This will ensure that doctors are not scared to respond to cases of child sexual abuse. One also feels the need to have a standard guidelines on 'How to conduct medical examinations of women and children' to be thoroughly taught and implemented in hospitals. The need for a one-stop help center or a collaborative response unit was discussed." –  Dr. Kamakshi Bhate, Professor in Preventive medicine at Mumbai's KEM Hospital and Member Secretary of the Gender Resource Centre.
"At the community level we need to ensure that one works with parents, community groups and schools to raise awareness on the issue. Parallely one also needs to work with the police and the hospitals to ensure that systems respond well when parents go to them. Basic amenities like streetlights in toilets and secluded areas should be given priority." – Shahullah Khan, Community Activist and 'Bal Surakshak' (Child Protector) who volunteers with us as a part of Mumbai Children Safety Network with partner NGO Apnalaya.
"Research on this issue is not the top priority among academicians. One needs to look at the fact that rising communication systems have led to digitizing human transactions, in India more number of people use internet than toilets. There is a need to look at online sex abuse and aspects related to it. One has to assess the impact of the prevention programs on parents and children. Just conducting sessions and walking away will not help us in advocacy. The other areas that must be researched are intergenerational continuity of abusive behavior, travelling sex offenders, go beyond incidences of abuses, understand the patterns of behavior among victims." – Dr. Pravin Patkar, noted Academician and Researcher.
"With POCSO we have a comprehensive legislation, however in this case the law precedes the culture, which is the biggest challenge. An Indian courtroom is not a congenial environment thus parents have to make a choice between healing and justice. We must learn to respect the privacy and confidentiality of children and their families. Courtrooms can be made friendly we need to ensure we work with the judiciary relentlessly in doing so." –  Michelle Mendonca, Child rights advocate and Director, Partnerships of Justice and Care.
The Next Steps:
At Aarambh we hope that some of the points mentioned above will act as food for thought for other organizations to start the process of change. We will ourselves take up a few issues and work on those in the coming years.