Artistic Azaadi: An Online Exhibition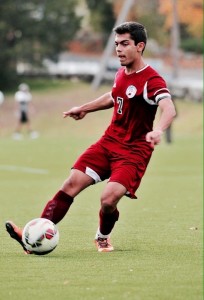 When Neel came to volunteer with Aarambh over the summer, we had planned for him to be working with our communications team. Within the first few days, we realized that his copious skills with pencil and paint could be passed on to the children at Prerana's Centres.
Soon, along with his communications work, Neel started drawing sessions at Prerana's Falkland Road Center and the Naunihal Children's Home at Kharghar. The exhibition 'Artistic Azaadi' that you are about to see is the outcome of these sessions.
"I have had an awesome time working with the kids and the people at Prerana's Aarambh Initiative. The team is great and treats each other like family," says Neel.
"Aarambh has set a very high bar for me now, as working with them was so much fun that its going to be hard to find another place like this."
We wish all the very best for his future.
If you wish to volunteer with Prerana's Aarambh initiative write in to info (at) aarambhindia.org
Robo Night comes out only at night and protects all children when they are asleep.
– Abu, 11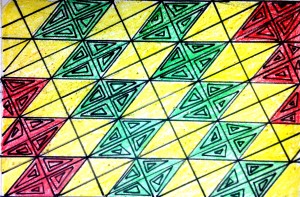 I love Bob Marley and i love the Bob Marley colors. I just thought triangles in red, blue and green would look really cool.
– Aslam, 16
The dragon is a powerful and beautiful animal that I like to draw. I have loved dragons ever since I saw Harry Potter. I love the way it looks and the way it can breathe fire.
– Ali, 13
Whenever small children are unhappy, you must show them a butterfly. Almost immediately the child will start smiling and laughing and giggling. It is a truly beautiful creature.
– Baby, 14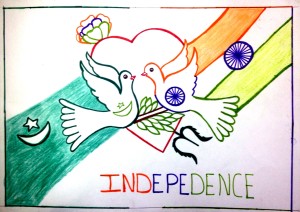 I don't like it when we fight with our neighbors. I want peace between India and Pakistan. Doves who are the symbols of peace fly across the borders and through these doves I want to give a message of peace and friendship between the two countries.
– Jyoti, 14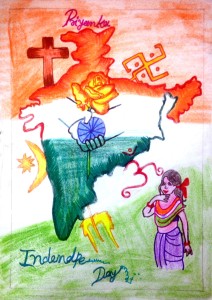 I love my country. I love the fact that it is diverse and yet, united. in this world, we are a truly unique country. I am proud to be born here.
– Priyanka, 17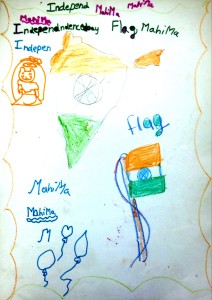 I drew flags and India because independence day is coming soon. I love my country. I also drew a teddy bear because i love to play with it. The teddy bear also loves both things –  India and Drawing.
– Mahima, 7