Talking Body, Body Parts and Sexuality
Some basic pointers to keep in mind while talking body, body parts and sexuality in the classroom

Don't isolate the subject and treat it as a 'special class'. Weave it into the fabric of the curriculum and classroom.

Be Prepared. Be Confident. Be Composed.

You don't need to teach the entire topic in one sitting. Know your students. If they are feeling awkward, stop and continue at a later time.

Draw Out and Maintain Boundaries during the sessions.

Use Inclusive Language and Proper Terminology.

Respect the rights, safety and confidentiality of the child.

Work with the Parents.

Be non-judgemental and respectful of differing values and opinions.
Videos can be a great tool to iniate this conversation in a classroom setting. Click here to visit our Videos page.
Tarshi's Orange Book is a workbook for teachers with 28 exercises on imparting comprehensive sexual education with confidence and ease. It is complemented by The Yellow Book: A Parents' Guide to Sexuality Education, which is filled with tips and tools, information and advice on talking with young people about sexuality. Click the thumbnail below to purchase it:-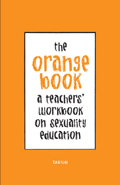 10 Guiding Principles of Teaching Sex and Relationship Education
A teacher provides a list of 10 of the most helpful tips on how to communicate sex education to your students in this insightful blog post. Click here to read.